Our Tradition
Our Artistic chocolate creations are thoughtfully crafted to give you the best taste and visual experience. Our products are created using sustainably sourced Chocolate; carefully hand crafted, and the ingredients are selected to provide the best experience.
Customized Chocolate Gift Box
Craft your own journey! Select each flavor you desire to taste and we'll carefully put together your box.
Handcrafted Chocolate
Beyond the taste, the beauty of handcrafted chocolate lies in its individuality. Each piece is unique and telling a story of creativity, skill, and passion.
Events & Party Favours
Share the love you're feeling on your special day with your guests through our gorgeous and delicious chocolate favours.
Authentic Ingredients
We utilize exceptional ingredients to enhance the superior quality chocolate that we use in crafting our chocolate bonbons.
Seasonal Flavors
We rotate our Bonbon flavors according to the seasons. Be sure to choose and taste them all before we introduce our exciting new creations!
Corporate Gifts
Surprise your clients or team members with a mindful gift that consistently creates an unforgettable memory.
These are amazing chocolates. We got them today from One of a Kind show. This is the best chocolate I have discovered in years. Outstanding!!!
Aline makes art! Her chocolates are not only beautiful but delicious!! I highly recommend you try
Aline Nasseh provides a beautiful and delicious array of chocolates. Her artful confections are perfect for gifts of any occasion and for personal indulgence!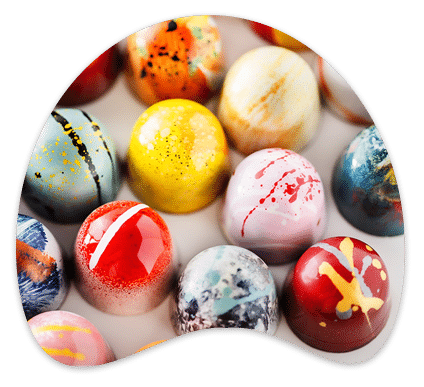 Bonbons
Since 2018, we are creating the most delicious and original Bonbons and Chocolates for all occasions. All the ingredients are carefully selected to achieve the surprisingly flavour of each creation is the result of mixing love, art and science. Select the flavors you wish to enjoy and we'll meticulously prepare your box.
Order
Chocolate Bars
The journey of creating these chocolate masterpieces begins with the selection of the highest quality cocoa beans. Packaging also plays a crucial role in the presentation of artistic chocolate bars. They come encased in beautifully designed wrappers or boxes, enhancing the sense of luxury and making them perfect gifts for any occasion.
Shop
Seasonal
Welcome to our seasonal chocolate collection, where every bite is a celebration of the time of year. As the seasons shift, so do our handcrafted chocolates, each one carefully designed to capture the essence of the moment. They are presented in beautifully designed boxes or wrappers, making them perfect for gifting or as a special treat for oneself.
Order